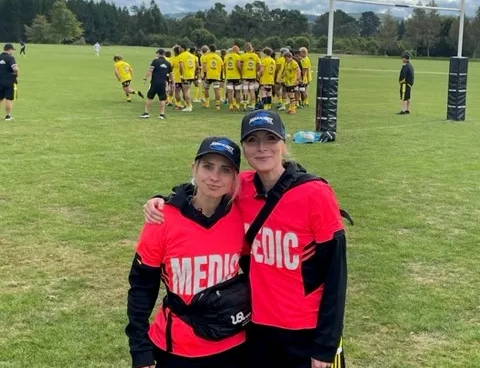 Hands on with the Hurricanes.

Q&A with physiotherapist Emma Lattey on the demanding job of managing injuries in Super Rugby.

Hands-on with the Hurricanes.

Q&A with physiotherapist Emma Lattey on the demanding job of managing injuries in Super Rugby.

Myovolt has been working with Hurricanes Under 20's Super Rugby team since 2022 under the direction of physiotherapist Emma Lattey. Emma has been busy managing the team's intensive rehab workload at the recent Super Rugby U20's annual tournament in Taupo, a three day showcase of the best up-and-coming rugby players.
We caught up with Emma to find out more about her work behind the scenes to support the physical performance of players and keep them on the field.
Q. Tell us about your career as a physiotherapist working in professional sports. Which teams or athletes have you been involved with so far?
I am lucky enough to have been a physiotherapist for the past 21 years. I have looked after many teams over this time as well as three volunteer physiotherapy stints in developing countries, so my career has been full of lots of amazing experiences and humans.
Currently, I work at UniSports Physio in a multidisciplinary clinic with many sports doctors, sports orthopaedic surgeons, a radiology clinic, and a wonderful team of physios. My work now with elite athletes is more on a one-to-one basis helping improve their biomechanics and kinetics after injury. I also do the ACL return-to-play testing for all of our surgeons here at UniSports and Axis Sports medicine, which is a real mix of elite athletes and weekend warriors wanting to return to sport.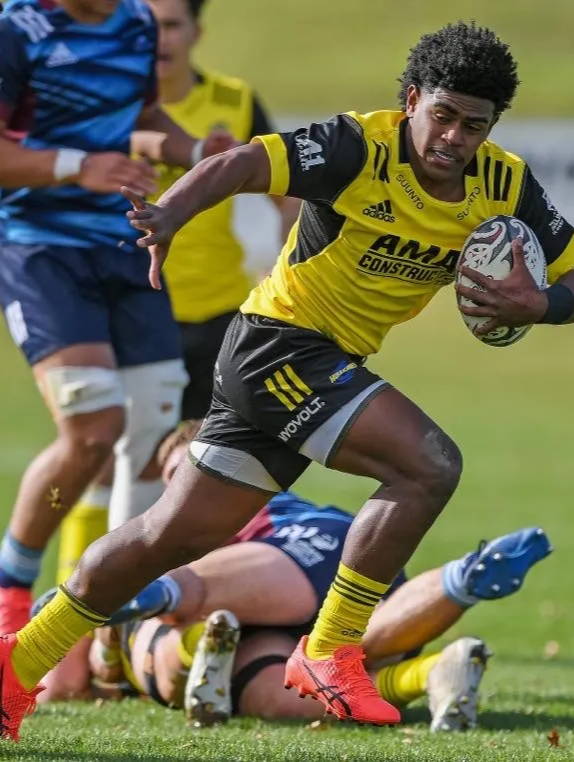 Q. How did you get involved with the Hurricanes and how long have you been working with them?
II have been working on and off with the junior Hurricanes teams since 2010. The management staff of the current under-20's team are amazing and we have a superb relationship built over many years, which makes me want to come back and work with them year after year.
Q. What was your role in helping the team prepare and compete in the Super Rugby U20 competition in Taupo?
I am part of the Medfit team for the Hurricanes under 20's team. The Medfit team consists of two awesome strength and conditioning coaches and myself as the physiotherapist. Initially we carry out medical screening and fitness testing of the whole squad of 45 players, and this is then reduced to 25 players in preparation for the Taupo tournament. On game days I strapped players before the game, and during the game, I'm on the side-line dealing with anything that crops up during play but also running messages from coaches.
Q. What are the key areas of focus for physiotherapy in relation to rugby players?
Every area. But in recent years there has been a big push on deep neck flexor strength to help reduce concussion impact.
Q. Does this focus vary depending on the position played?
All players are at risk so all players in elite teams will be doing some form of deep neck flexor strengthening currently in their gym programs.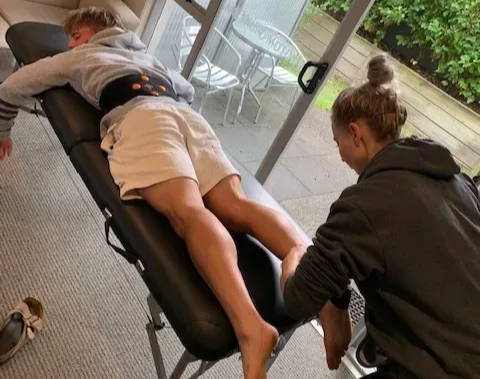 Q. What injuries tend to be most common for rugby players?
I think I have seen every trauma and impact injury possible over the years in rugby. The biggest time off-play injuries would be - ACL ruptures, Achilles ruptures, shoulder dislocations, and concussions.
Q. Which of these are the most challenging to manage in terms of return to play from a physiotherapy perspective?
ACL rupture and concussion equally.
"Myovolt products were in hot demand all day every day after games and training. It helped me a lot to have such as accessible form of treatment."
Q. Are there any differences between the men's and women's games in terms of the rate or nature of injuries?
Yes. Women are at higher risk of both of the above injuries, unfortunately. As research becomes more equally gender-focused, I think training methods for women and men will continue to be developed differently. The benefit of this will be to lower injury rates in women's sports.
Q. What protocols are typically used in rugby training for injury prevention?
Injury prevention protocols are individually focused for rugby (as opposed to the FIFA11+ warm-up in football) and made for each player by the Medfit crew depending on the demands of the week, and the injury history of the player. There are most definitely deep-neck flexor strength exercises and jump/land training in all programs I give out.
Q. How did Myovolt help the team and assist with your rehab and recovery workload?
With three tough rugby games in a week during the Taupo tournament last year (and this year also), the Myovolt products were in hot demand all day every day after games and training. It helped me a lot to have such an accessible form of treatment that a player could be using when in recovery mode from a big game or training session.
Q. Any moments from your time with the Hurricanes U20's that are particularly memorable for you?
During our tournament last year, the physio room always had such a great vibe before games and on treatment nights. The treatment room consisted of a double bed plus physio table and was always full of activity. The most memorable part was players piled on top of each other on the bed, platting hair, wearing Myovolt, getting treatment, and generally loving each other's company.
Myovolt Leg fits comfortably around the left or right knee, quad, hamstring or calf and delivers a 10 minute focal vibration treatment at the press of a switch. The neoprene leg brace has an adjustable fit.